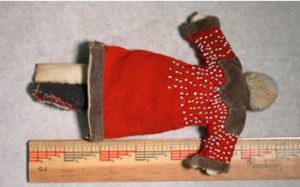 The Western Heritage Center cares for a collection of over 40,000 items, including thousands of historic photographs, Native American beadwork, western art (James Kenneth Ralston collection), architectural drawings, western tack, clothing and textiles, historic guns, advertising memorabilia, and oral histories pertaining to the people and places of the Yellowstone River Valley and the Northern High Plains.
Interested in making an object donation?
If you have an item pertaining to the people, places, and events of the Yellowstone River Valley and the Northern High Plains region, it could be accepted for accession into our collection! The Western Heritage Center accepts unconditional donations of objects, photographs, and other ephemera in to our permanent collection.
To donate your object,
Contact us by email with photographs, details of said item, and its known history to Collections Manager, Cecelia Gavinsky
The Western Heritage Center Collections Committee reviews and decides if the item is appropriate and will research item further if needed.

Does this object tell the story of the Yellowstone River Valley and the Northern High Plains?
Can the Western Heritage Center dedicate the time, space, and resources needed to conserve, protect, and store the object for the next 100 years?
How will the piece be used in the future? Is it a research aid or an exhibit object?

If accepted by the Collections Committee, the item begins the accession process into our collection.
Requesting Information
To request information from the Western Heritage Center Archive, please email our Community Historian. Please include your name and phone number. Tell us specifically what you're looking for, and why. You can also complete the inquiry form below.
For a person or genealogical search:  Name, including maiden name, significant dates (birth and death), and known residences.
For a business, building or residence search: Name(s) of the business, owner's name(s), location(s), time period, and known street address.