Tours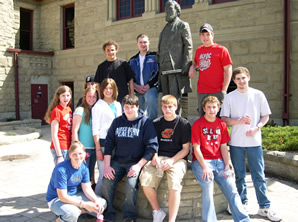 Guided and self-guided tours are available for groups at the Western Heritage Center, Tuesday through Friday, between 10 a.m. and 4 p.m. or by appointment. Most tours take about one hour. Reservations must be made at least one week ahead for guided docent tours, and may include a nominal fee. We appreciate knowing when self-guided groups are coming so we don't schedule another tour at the same time.
To schedule your tour and inquire about fees, please contact Lauren Hunley at 256-6809 or lauren@ywhc.org. Please notify us if you need any special considerations.
For student groups, we ask that one adult chaperone accompany every ten students. Classes will be divided into manageable sizes.
On-street parking is available for buses and cars directly in front of the Western Heritage Center at 2822 Montana Avenue. Please use the main entrance on Montana Avenue.